In Rancho Mission Viejo, CA SOCO Pediatric Dentistry & Orthodontics Turns Little Smiles Into Big, Beautiful Ones with Invisalign First!
Invisalign First are clear aligners designed for a positive treatment experience while addressing the unique needs of growing children – aligning their teeth while expanding their arches to make room for existing teeth and incoming permanent teeth.
A Simple Start
Invisalign First starts with a simple scan. No need for goopy putty impressions! From there, every step of your child's plan is digitally plotted, so you know what to expect.
A Happier Experience
Removable aligners mean there's little interruption to your child's life and the foods they love. The aligners are specifically designed to fit smaller teeth and accommodate new growth.
A Bigger Smile
As they progress through their treatment, you'll see their smile transform through a series of small, expertly designed shifts calculated for how little teeth should move.
Made for All Sorts of Smiles
Invisalign First aligners can fix a broad range of teeth straightening issues, including crowding, spacing, and narrow arches. There are no food restrictions and no change to your child's hygiene routine. Plus, your orthodontic insurance may cover up to 50% of the treatment cost!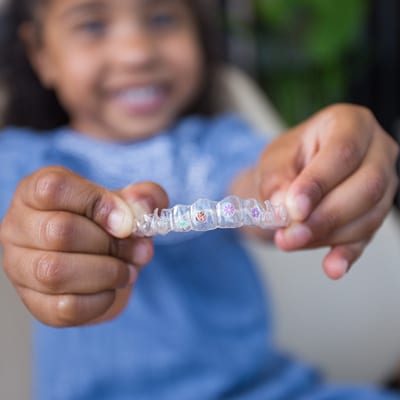 Mix. Match. Stick. Repeat!
With Invisalign Stickables, kids can express themselves with a huge variety of emoji-style stickers on their Invisalign aligners. Ask our team for more information!
Proven Smile – Changing Power
When your child gets Invisalign treatment, they're in great company. Invisalign technology has transformed over 5 million smiles worldwide. Contact SOCO Pediatric Dentistry & Orthodontics for a complimentary consultation for your child. Our team will personally evaluate them to determine if they are a candidate for Invisalign First!