We Make it Easy to Love Your Smile
At SOCO Pediatric Dentistry & Orthodontics, we believe that children and teens should have the chance to express themselves. WildSmiles braces turns orthodontic correction into limitless expression.
WildSmiles brackets work the same as traditional brackets but offer 25 customizable designs that patients can mix, match, and pair with different colored elastics for a look that is as unique as them!
Why Choose a WildSmiles Braces Style?
Achieve the same great results compared to traditional braces
Express your style during your orthodontic journey
Feel confident and happy with your braces
The Signature collection offers children and teens a variety of shapes to enhance their smile, including:
Super-Star
Super-Diamond
Flower-Power
Baller
Wild-Hearts
Footballer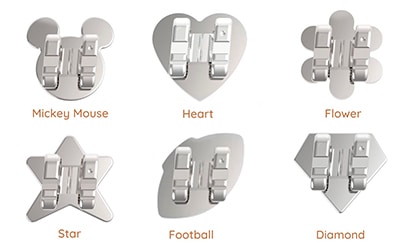 When we think of Disney, we can't help but smile! Disney is a popular fixture in many children's lives, so what better way to let them feel good about their braces than to have Mickey Mouse supporting their smile!
In addition to Mickey mouse brackets, WildSmiles also offers Disney elastics named after popular moves such as Frozen and Finding Nemo.